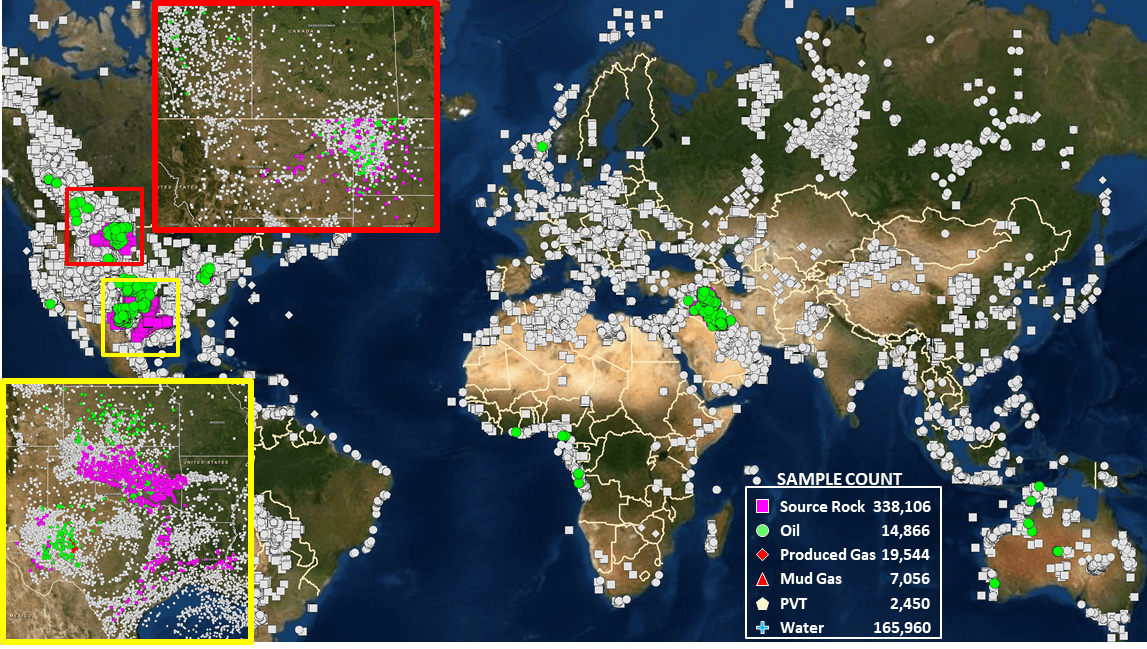 New Capabilities and Enhancements
Massive Release of Data: The past several weeks have placed great strain on our industry, especially our unconventional-focused clientele. As we adjust to the impact of COVID-19 and $20/oil, we want to ensure GeoMark is doing our part in helping our industry improve and move forward. In that spirit, we have changed how we manage data entering the database. Instead of introducing data from GeoMark's Interpretive Studies into Regional Database products within 1-3 years of a Study's release, we have decided to push 100% of Study-related data into our Regional Database products (Global Geochemical Database, International Geochemical Database, and the United States Geochemical Database) immediately. That means on top of the data added to RFDbase during the first quarter of 2020 (336 oils and 2,077 rocks), we are also releasing:
45,214 new source rocks
1,680 new oils
7,056 new mud gasses
Log in today to see if new data was potentially loaded into your areas of interest!
Works in Progress
RFDbase 4.0 and Data Load: RFDbase 4.0 was slated for release toward the end of Q2 2020. Given the current economic environment, this effort has been placed on hold for the time being, though we hope to initiate development and testing again soon. At that point, we will provide an update on the expected release schedule.
Did you know?
GeoMark will load all analysis performed in our labs into RFDbase at no cost. Proprietary data from other vendors can be loaded into RFDbase for a fee. Please contact us if you are interested in either data loading option.

We are always willing to provide clients with RFDbase user training or an introductory overview of the platform as well as the data licensed by the client.

GeoMark has teams to digitize Source Rock, Gas and PVT data. Client proprietary data (whether digital or paper-based) can often be digitized and loaded into RFDbase at either no cost, or for discounted access to our database products, if GeoMark is able to place the data into the Open section of our database at a later date.