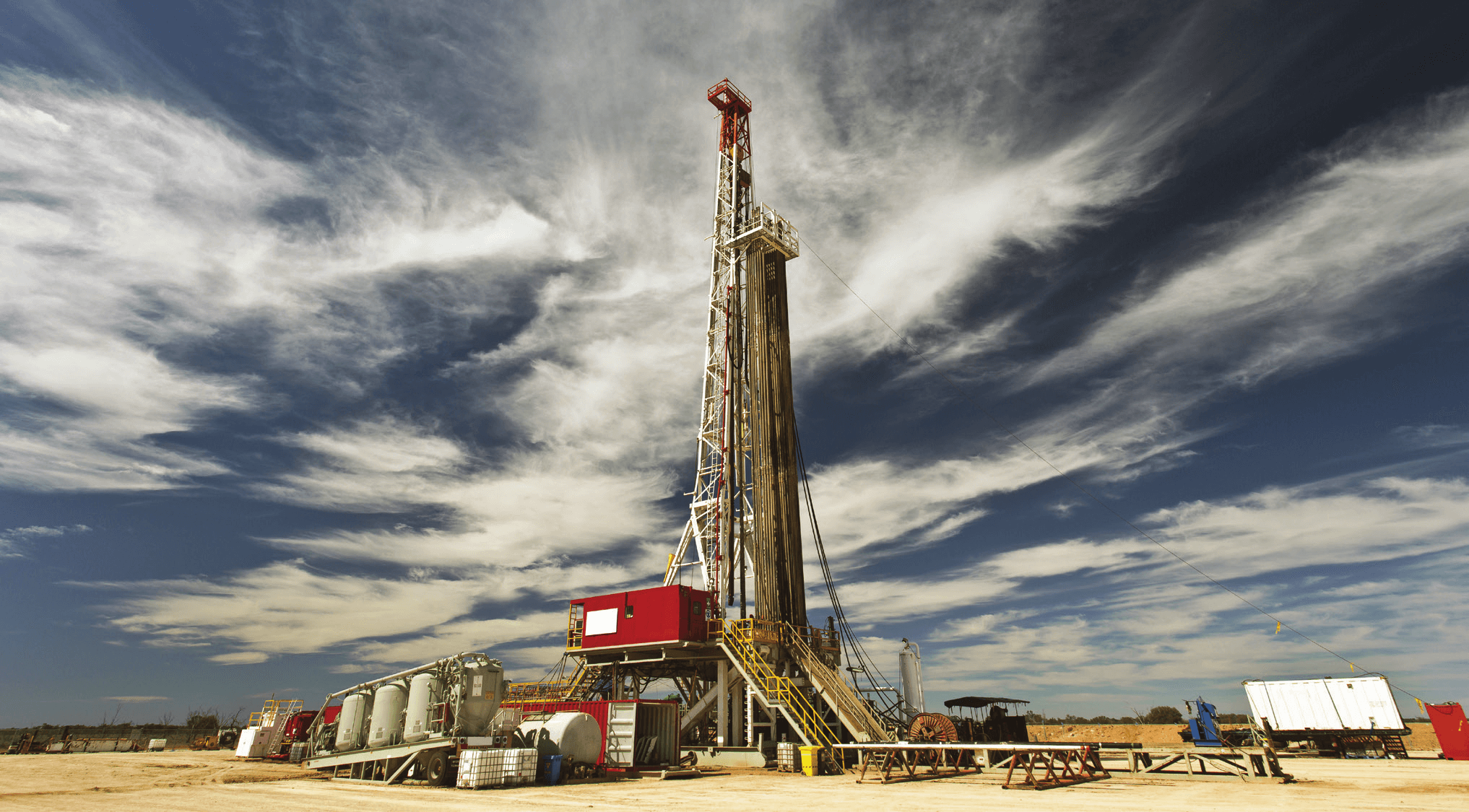 The operator race to transition to full co-development in the Delaware basin is in full force heading into 2020, while other unconventional plays in L48 and International assets continue to be explored, exploited and co-developed. Decision makers and technical disciplines are constantly in search of ways to innovate fundamental techniques, adapting how they are interpreted and used to better answer critical questions:
Are we producing the oils from the zone in which we landed or are we draining from adjacent and geochemically distinct flow units?
Is production composition consistent through time as both production stabilizes and field development progresses?
Has well spacing been optimized to maximize drainage from the landing zone?
The necessity for operators to understand subsurface inter-well communication, and estimate total drainage volume in target formations, is critical to the economic success of the asset, and company portfolio.
In an ideal subsurface world, target formations/zones are simplistic, with a segregated fluid column and a definitive high-quality reservoir that fluids are being produced from. However, unconventional plays are never this simple. Given that reality, how does the industry adapt analytical techniques to unravel complex fluid signatures of production to ensure we constrain operators critical production questions.. As we know, drilling too few wells in a formation results in critical reserves being left behind, while too many wells will result in higher capital costs with unpredictable returns, thereby economically impacting a given asset.
GeoMark's Reservoir Geochemistry & Production Monitoring methodology is an innovative, cutting-edge tool every operator should consider in their search for solutions. Utilizing GeoMark's applied workflow, operators get an understanding of which wells, orientations and spacing patterns are communicating and draining associated portions of the flow unit, while providing the advantage of fully characterizing and differentiating drainage overtime. With these data in hand, operators can predict produced oil properties and changes, critical to understanding decline rates, resulting in improved economic models and profit margin estimates. Additionally, this workflow can help determine the optimal time to place wells on 'lift' or initiate an 'Enhanced Oil Recovery' (EOR) program.
GeoMark's Resevoir Geochemistry workflow follows a logical staged approach; first establishing a geochemical baseline before progressing to focused and detailed monitoring over time.

Potential Fluid Monitoring Solution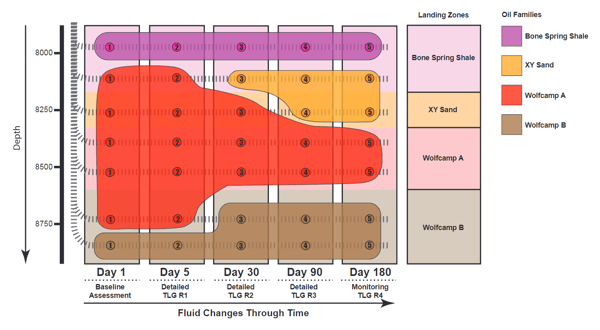 The interpretive diagram above summarizes the observations of a Delaware Basin monitoring program, following steps 1-3 as outlined above. Changes in fluid geochemistry through time reveal that as production stabilizes the Wolfcamp A fluid becomes focused within the Wolfcamp A flow unit. The Bone Spring Shale fluid is the most consistent in the upper horizon. Changes in fluid geochemistry are clearly evident across all horizons over time
Sample Collection

GeoMark makes sample collection easy by providing multiple ways to acquire fluid samples, while ensuring best practices are followed. Field personnel can be dispatched to your wellsite locations to acquire samples on your behalf. If your team would prefer to use your own field personnel, GeoMark will provide complete fluid sampling >kits and all associated instructions and return shipping labels, providing you a lower cost alternative. We can also porivde training at your location at your request. Regardless of the method you choose, physical collection ofproduced samples is the first step in initiating a successful monitoring program.
As the industry works to advance techniques to unravel subsurface-to-wellhead performance links,producing from and how they behave, interact, or decline over time. As we all know, communication is the key to subsurface success.
About GeoMark Research
GeoMark Research is the preeminent geochemical laboratory, providing petroleum fluid analyses to the petroleum industry and offering a full range of source rock, oil, and gas services. GeoMark uses statistical software to assess petroleum fluids and quantifiably allocate fluids back to homogeneous end members.